Go
here for my Monday updates
.
As I observed in my major
new piece at
The Nation
yesterday, I have been watching the controversy and outrage over the sexual assualts and alleged coverup in Steubenville, Ohio, for weeks, partly because my wife's family lives nearby. I have been to that small city at least fifty times. After a video of a young man describing what he called the "hard rapes" went viral on Thursday-- it was uncovered by an Anonymous hacker--the national media has finally started to cover it, and there were further developments late yesterday (see below). I'll be posting updates on Sunday, as well.
Sunday
8:10 p.m.
Attorney for one of the two defendants today
calls for trial
to be 1) postponed 2) moved out of Steubenville. CNN: "Adam Nemann, the lawyer for 16-year-old defendant Trent Mays, told CNN he wants the case moved out of Steubenville because of the extensive publicity it has received 'and what we perceive as threats to individuals, perhaps witnesses, and also defendants and even defense counsel.'"
7:25 p.m.
Woman named Amanda Jane Kellar Trippanti, who (from her
Facebook page
) still lives in Steubenville,
sent this message
claiming she was drugged and raped there in 1995, it was "swept under the rug" and sheriff (then and now) belittled her.
6:10
Kent State University, in surprise move,
says it is taking close look
at incoming freshman due to arrive in September on a wrestling scholarship--who was a member of the Steubenville high football team closely linked to the rape case. They name the student and though he has not been charged their are concerns that the net is widening. Yahoo covers
here
.
6:00
ABC
with report
on Steubenville protests, though gives nearly equal time to thinly- attended counter-protest yesterday.
3:10 p.m.
Traci Lords on Roseanne's radio show (see below) on Steubenville rally: "Yesterday was an amazing moment. I felt very vindicated by that and stories women told." Hails Anonymous. "Now is this time--this is a global issue." When raped in Steubenville at age 10 she could not imagine it, came out of nowhere, out in a field on beautiful day, and "changed my life." Then pretended like never happened, did not tell a soul, hoping it would go away like "a bad dream." Then mother's boyfriend molested her. Went to L.A. in 1980s at age 14, felt "twisted," became porn star.
Says she hasn't been to Steubenville in years. But growing up economy was "tanking there," tremendous "machismo," football really big.
Then someone IDed as an "Anonymous" person--not sure if the key guy doing Steubenville stuff--called for a short bit.
2:30 p.m.
NSFW photo
from a rally elsewhere makes its point.
2:00 p.m.
Friday night, actress/writer Traci Lords, at left, tweeted that she was raised in Steubenville and had been "raped there." (Her bio says at age of ten.) She sent out support for activists there and Roseanne Barr invited her on her KCAA radio show. That show has just started and Barr has tweeted that Lords will be on at 3 pm ET. Listen
here
. Lords tweeted last night: "I'm so proud of all of you. The silence has been kicked to the ground."
11:30 a.m.
As we know, social media has had huge role in this case and no doubt this will continue, as "confidential" tips and leaks--not necessary accurate--flow to Anonymous people and maybe even local or national reporters. Just this morning, @KyAnonymous tweeted that numerous students had allegedly told him that a certain fellow student had slipped the "roofie" to the victim on the night of the incident, and asked for his response. That student tweeted back within minutes that he was "nowhere near the girl" and the claim was "insane."
Sunday 10 a.m.
The
OccupySteubenville site
has many new links and video. And here's
a local paper's report
on yesterday's big and moving demo (see more below).
Saturday 10:30 p.m.
Great point by an angry Dr. Drew Pinsky on CNN--on lawyers claiming if girl was conscious then defendants are off the hook. In fact, in many states, such as California, if you have a small level of alcohol in system then "consent" is in question and rape can be charged even if very conscious. But may not be law in Ohio. Lawyers for Steubenville defendants claim girl was conscious at times--as if that means she agreed to assaults.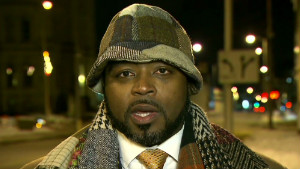 10:00
CNN special just started. Runs a bit of viral video--but obscures the drunken kid's face. Then to attorney for one of the kids, who makes his "bombshell" claim that victim texted him and said, "I know you didn't rape me." But as many have pointed out: she may have been unconscious during all of the assaults. Then to the attorney for the second defendant, Walter Madison (left), who says we should ignore the photo (below on this page) of his client, Ma'Lik Richmond, carrying the apparently unconscious girl. He also refuses to say whether his client had sex with the girl but then seems to parse whether "digital" penetration might count. He also says that the victim was conscious at some point.
Then calls the protest of what's happened a "legal lynching" by women's groups who are against rape and violence. And says the viral video is "disgusting"--that is "disgusting" how it is being used on social media and by activists groups.
Next guest is blogger Alexandria Goddard who has been on the case from beginning and was sued by one of the students, and then dismissed. She is in an undisclosed location after serious threats against her from people in Steubenville.
Local Leaks, by the way, challenges claims that it had to "hack" to get that (now viral) video. In fact, it had been posted once by students and was archived before deleted, and then brought out this week.
7:20 p.m.
Short video of the sheriff speaking at the big Steubenville rally today, to cheers and hoots.
5:00
p.m.
CNN's Susan Candiotti just reported live from Steubenville just now, so national press very much on the scene. Brief quotes from defense lawyer and attorney for victim but much more on special CNN program tonight at 10 p.m. Here latest at
CNN site
.
4:00 p.m.
Next big rally in town: Feb. 2, just before trial starts.
Noon
to 2 p.m.
Livestream below of large rally, more than 1500, in small city Steubenville. Chants just now of "Go, Reno, Go" and and "Justice for Jane Does" and Rape is Not Funny." Women who have been raped testifying, very moving, one after another, of all ages, and calling for justice (they do so for over an hour). Sexual abuse rampant in that region. One woman says four in her family molested by same man. Sheriff allowed to speak. Local TV stream
here
.
Live video from your iPhone using Ustream
11:30 a.m.
With protestors gathering outside for big noon rally, city officials just now held press conference and announced launch of their
new "Steubenville facts" site
on the rape case, with timeline.
10:30 a.m.
New posting
at
The Atlantic
cites rumors that Coach Reno may resign as early as Monday. As I tweeted last night: I never could understand why the
NYT
made so little of him strongly threatening one of its reporters last night. His role in "coverup"--and failing to discipline players who witnessed assaults--in question.
9:30 a.m.
Defense attorney for one of the defendants
claimed on CNN
for the first time that the youth received a text from the victim three days after the alleged assault telling him, "I know it was not rape." However, the girl's lawyer then pointed in a lengthy statement that she was unconscious during the assaults and the whole point was that she did not know what happened to her--and evidence came from photos, videos and eyewitnesses.
More from
same report
: The family of the young man in the viral video says they have retained a lawyer. Also, Ohio State University released a statement indicating that the young man had attended the school this past fall up to December 12. Dropped out? Kicked out? Or still on Christmas break?
9 a.m.
The alleged chief hacker posting at Local Leaks, @KyAnonymous, has
posted a response
to the local sheriff's promise to to get him.