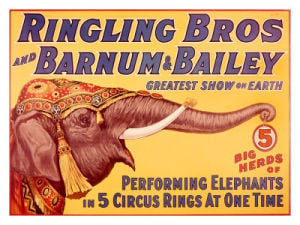 UPDATE:
Elephant recovering
. Suspect still on loose. Monkey accounted for--not considered the perp.
Earlier:
This just about tops them all. From Reuters tonight in Mississippi: "An elephant in the Ringling Brothers and Barnum & Bailey Circus was injured in a drive-by shooting on Tuesday, and the police were searching for suspects, law enforcement and circus officials said. The 39-year-old Asian elephant, named Carol, was resting in an enclosure outside the BancorpSouth Arena in Tupelo when a shot fired from a passing vehicle hit her shoulder, an arena spokesman said. The elephant is expected to fully recover, the circus said." Tupelo, of course, is the hometown of Elvis.
From
this story
:
A security guard on the scene was able to provide some information to the Tupelo Police Department, which is investigating but "leads are pretty slim," said Tupelo Police Capt. Rusty Haynes. "We're dealing with a victim that can't talk."
PETA is offering a $5000 reward for shooter's capture.