And so it begins (after three years) and we reach day #2. Once again I'll follow closely below, from tweets from the site and other sources. My
piece
at
The Nation
on trial starting--plus key excerpt from
new edition of my book with Kevin Gosztola
, who is there today @kgosztola. All times ET.
6:05
Gosztola: "Judge says Bradley Manning's trial will go into recess some time tomorrow & resume on Monday because it's ahead of schedule." Key Jihrleah Showman testimony tomorrow. Why Manning
earning such sympathy
in the UK.
4:40
Mike Daisey, famous (or infamous) for his Steve Jobs/Apple monologue,
posts new one
on Bradley Manning for free.
4:30
Kevin Gosztola: "WikiLeaks was not highlighted as place US enemies might go for classified info in any training Bradley Manning had."
4:00
Ed Pilkington: "Adrian Lamo
@
6
tweets his subpoena to appear this AM at
#
Manning
trial, says 'My work here is done." Kevin Gosztola: " Govt had witnesses testify on training Bradley Manning was given on protecting classified information & knew how enemies could use." Nathan Fuller: "Trial moving quickly (SME says gov't is 2 days ahead of schedule) because gov't & def continue to agree to expected testimony." That is, "stipulate."
2:45
Witness list for next few days distributed....Julie Tate: "Another document on Lamo's computer was an edited version of his chats with Manning, titled Brad_Confession."
1:30
Military, at last,
posts huge trove of docs
from pre-trial hearings. My co-author on book Kevin Gosztola
wraps up the morning
.
12:25
p.m. Alexa O'Brien: "What was weirdly missing from examination of permanently excused Lamo was testimony concerning Jason Katz."
11:40
In recess until 1:45, no indications of afternoon lineup.
11:10
Lamo has finished testifying. Was introduced as a "confidant" of Manning. Reports from those at scene: "No bomb shells. Some rehash about the chat logs....Coombs focused on Manning's idealistic statements to him about wanting to change the world...." Gosztola: "His testimony was far more brief & limited in comparison to his Article 32 testimony." (
See our book
for full account of that earlier testimony.) Lamo claimed Manning told him he knew Assange, but never said he hated America or wanted to help enemies, indeed was a "humanist."
11:00
AP reporter claims only about 25 journos at trial today--after about 70 yesterday. As I predicted... More from Gosztola
here
on how gov't trying to prove Manning "aided enemy."
10:13
Agent and forensics guy already testified, Lamo next. Gosztola: "Defense asked digital forensics examiner if he found anything on his computer suggesting he sympathized w/ terrorists. He said no."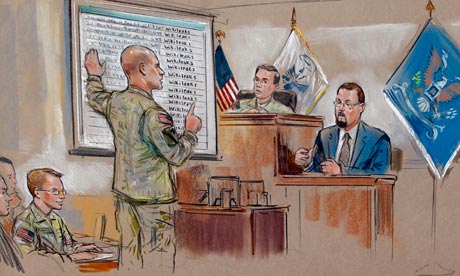 9:30
Gosztola: "Military monitoring comments in threads of coverage of Bradley Manning to prepare for 'threats' to courtroom from supporters."
9:00
Ed Pilkington of
The Guardian
with breaking news that Adrian Lamo, who turned Manning in three years ago, will be testifying today, probably witness #3. Reporters note fewer media seem to lining up today, no surprise given past performance.
8:50
Victory! After much fund-raising and legal battling,
transcript of first day of trial
posted this morning.
8:40
Julian Assange
with statement
on opening of the trial. He was at center of it yesterday. My pal Charles P. Pierce
weighs in
on First Amendment hypocrisies (James Rosen good, Bradley Manning bad).