And so it begins (after three years). I'll follow closely today below, from tweets from the site and other sources. My
new piece
at
The Nation
on trial starting--plus key excerpt from
new edition of my book with Kevin Gosztola
, who is there today @kgosztola.
8:15
Don't miss
photos of WikiLeaks Truck
(left) making it onto the base for the first time today....Weak Chris Hayes segment on Manning tonight. Meanwhile, my co-author Kevin Gosztola on
HuffPost live
.
6:00
From Julie Tate: "Bradley Manning Support Network forced to wear Truth shirts inside out today. Image coming soon."
5:10
Recess! First day concludes. Reporters race to files stories but tidbits on late-afternoon testimony should emerge soon. Here's
L.A. Times
on
gov't trying to link Manning
tightly to Assange, or vice versa. PBS Frontline
summarizes the day
, and details the incident in Iraq the defense says inspired him to take action.
4:00
NYT
new piece
on Manning support network, money raising, protests today in the rain.
3:30
Prosecution presenting. Much to do about Manning computer, chain of custody. Pilkington: "US gov shows in court 2007 CD found in
#
Manning
's housing unit marked secret"--presumably Collateral Murder vid. Gosztola: "Special Agent Thomas Smith testifies in intel facility where
#
Manning
worked there was secret classified information on walls."
2:10
From Julie Tate: "Even Coombs if can't talk motive in trial portion, did a nice job presenting motive in opening statement." Gov't will focus on forensic evidence from Manning's computer.
1:45 p.m.
Another major claim, via Alexa O'Brien: Gov't "alleges 'and those chat logs the evidence will show are b/w PFC Manning and what the evidence will show to be Julian Assange.'" Gosztola
with review
of prosecution's opening statement.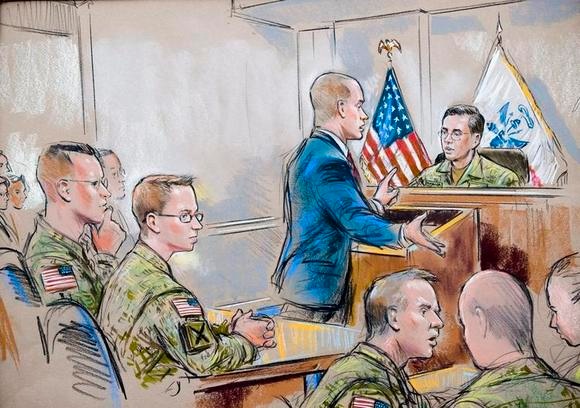 12:45 Ed Pilkington:
"lawyer David Coombs tells court soldier selected docs to leak to
#
WikiLeaks
so they would NOT aid the enemy and harm US....Coombs tells court that at time
#
Manning
leaked to
#
WikiLeaks
he 'had a very internal private struggle with his gender.'"
12:40
Defense statement begins. Gosztola:
"suggests Dec 24, 2009, incident in Iraq where civilians were killed spurred decision to disclose info." Mark Mardell: " defence says soldier was young man struggling, who wanted to make world a better place....soldier is a humanist who places people first, values human life."
12:15
From Gosztola: "Govt claims
#
Manning
'enlisted [Julian] Assange's help in figuring out a way to browse SIPRNet anonymously.'" Defense about to offer their opening statement.
12:05
Shocker from Alexa O'Brien just now: Government "alleges in opening statement PFC
#
Manning
helped edit Collateral Murder." That's that Iraq vid edited by Assange and colleagues in Iceland. From Ed Pilkington: "US gov accuses
#
Manning
of 'aiding our adversaries' to 'gain the notoriety he craved.' Says leaking was massive and indiscriminate....prosecutor says Bin Laden asked for and got info put out on Wikileaks."
12:00
From Kevin Gosztola: "Govt argues
#
Manning
knew giving info to WikiLeaks would aid enemies because he read intelligence report on WikiLeaks."
11:30
Nothing new from feeds at the site in over half an hour. Wi-fi has been and will be an issue. Meanwhile,
you'll find photo of the famous WikiLeaks Truck
at the scene.
10:55
Already a recess, but now they're back. Daily schedule looks like it will be 9:30 to 6:00 ET.
10:35
Manning confirms he wants trial by military judge alone. Ed Pilkington: "Govt does not object to stenographer recording
#
Manning
trial - judge yet to rule - a
@
FreedomofPress
bid to open proceedings to public." Also: "Manning had right to speedy trial within 120 days of arrest. This is day 1,100 and trial about to start. FINALLY."
10:30
From Kevin Gosztola: "Govt prepared slide show for opening argument that they didn't let defense see. Judge, defense & govt are in secret conference." Both gov't and judged mentioned having openied up proceedings more to press after outcry. From @BBCMarkMardell: "Manning briefly answered questions from the judge to show he understood the case 'yes, Yes, Ma'am.'"
10:10
From Freedom of the Press, which raised funds for this (with court restrictions on info): "Just received word from
@
carwinb
: the stenographer is all set up in the Manning trial media room. This is excellent news for transparency." @EdPilkington of
The Guardian
: "I'm surrounded by a packed media crowd speaking umpteen languages."
9:55
From longtime key on-site source Alexis O'Brien @Carvinb: "European press started arguing with MDW-- US press started arguing with European press. US press total doormats." @SaveBradley: "Cornel West and Chris Hedges are at Ft. Meade for Bradley Manning."
9:45
From my co-author Kevin Gosztola: "3 witnesses to be called: two special agents that investigated "crime scene" & Manning's former roommate in living quarters. Govt will give 1 hour opening statement and then defense will give 45 min opening statement. Serious Wi-Fi issues in media center. Upset reporters who can't file during court proceedings too."
Watch Kevin
on Democracy Now! today.
9:30
For mainstream reports from the scene, there's Charlie Savage @charlie_savage from
NYT
and Julie Tate @JulieATatefrom
Wash Post.
Tate says media room full. Almost never the case at most of the hearings.