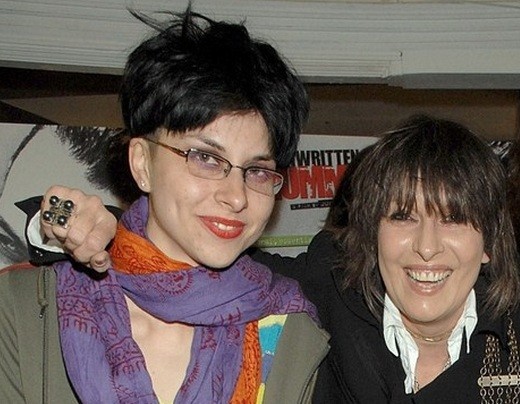 Ray Davies was one of my musical heroes dating back to the Kinks--half a century ago--through the 1970s when I interviewed him twice for
Crawdaddy
. Of course, it was interesting when he got involved romantically with The Pretenders' Chrissie Hynde, but whatever happened to their daughter? Today
Rolling Stone
reports that Natalie Hynde
has been sentenced for her role in a unique anti-fracking protest in England. (And
see her piece
about it at
The Guardian
.)"The 32-year-old, along with 55-year-old Simon Medhurst, had superglued themselves together around the drill site's gate on July 31st to create a "striking and symbolic" media image, according to
The BBC
, to raise awareness about fracking (a technique to fracture shale rock and retrieve natural gasses within). Hynde and Medhurst both denied wrongdoing."
Despite their claims, a judge said the pair "went beyond reasonable freedom of speech." Furthermore, district magistrate William Ashworth said that Hynde and Medhurst did beset the site "in the true meaning of the word" because they had blocked access to it. The blockade cost the drilling firm Cuadrilla £5,000 ($8,300). Hynde was given a 12-month conditional discharge and ordered to pay costs of £400 and a £15 "victim surcharge"; Medhurst was told to pay £200 and a £20 victim surcharge.
But it could have been differently disruptive: Hynde said her original plan was to dig a tunnel at the site. Instead, she tried superglue because it was easier. "I wanted it to look peaceful, with the hands around the gate, and superglue seemed fast," she said. "I hadn't done it either, so I thought it would be a good thing to try." She did not know how long the fixative would hold. "If it did [obstruct access to the site], then great," Hynde said. "That wasn't the intention."