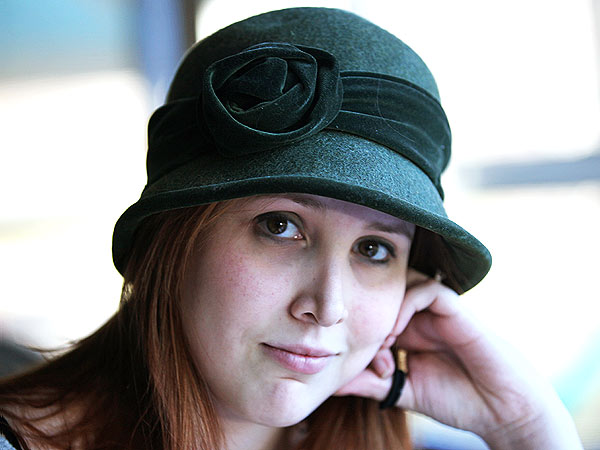 Saturday
: Dylan Farrow
has now responded
, in a statement to the
Hollywood Reporter
. She again denied any coaching from her mother and blasted "the latest rehash of the same legalese, distortions, and outright lies he has leveled at me for the past 20 years...Woody Allen has an arsenal of lawyers and publicists but the one thing he does not have on his side is the truth. I hope this is the end of his vicious attacks and of the media campaign by his lawyers and publicists, as he's promised. I won't let the truth be buried and I won't be silenced."
Friday night
: A couple of days back we reported that NYT public editor Margaret Sullivan had revealed that Woody Allen had requested space to respond to last Sunday's column by Nick Kristof and blog post by Dylan Farrow, claiming that he had sexually abused her at the age of 7. Sullivan said the Times would have the option of rejecting such a piece, if it arrived, but
tonight they posted it
. Read it yourself. (Note: Also tonight, Maureen Orth, who has written two detailed stories on the case since 1992,
presents what she says are 12 undeniable facts
, which undercut Allen, at
Vanity Fair.
)
Allen opens tonight:
I naïvely thought the accusation would be dismissed out of hand because of course, I hadn't molested Dylan and any rational person would see the ploy for what it was. Common sense would prevail. After all, I was a 56-year-old man who had never before (or after) been accused of child molestation.
Better left unsaid:
Justice Wilk was quite rough on me and never approved of my relationship with Soon-Yi, Mia's adopted daughter, who was then in her early 20s. He thought of me as an older man exploiting a much younger woman, which outraged Mia as improper despite the fact she had dated a much older Frank Sinatra when she was 19. In fairness to Justice Wilk, the public felt the same dismay over Soon-Yi and myself, but despite what it looked like our feelings were authentic and we've been happily married for 16 years with two great kids, both adopted.
And yes, he goes there....
I pause here for a quick word on the Ronan situation. Is he my son or, as Mia suggests, Frank Sinatra's? Granted, he looks a lot like Frank with the blue eyes and facial features, but if so what does this say? That all during the custody hearing Mia lied under oath and falsely represented Ronan as our son? Even if he is not Frank's, the possibility she raises that he could be, indicates she was secretly intimate with him during our years. Not to mention all the money I paid for child support. Was I supporting Frank's son? Again, I want to call attention to the integrity and honesty of a person who conducts her life like that.
And then this:
Undoubtedly the attic idea came to her from the Dory Previn song, "With My Daddy in the Attic." It was on the same record as the song Dory Previn had written about Mia's betraying their friendship by insidiously stealing her husband, André, "Beware of Young Girls." One must ask, did Dylan even write the letter or was it at least guided by her mother? Does the letter really benefit Dylan or does it simply advance her mother's shabby agenda? That is to hurt me with a smear. There is even a lame attempt to do professional damage by trying to involve movie stars, which smells a lot more like Mia than Dylan.