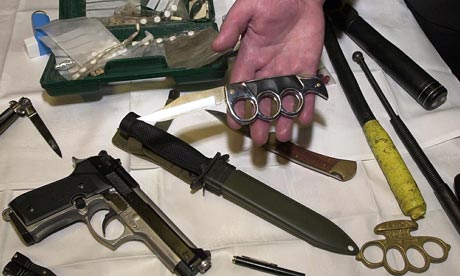 Thursday Update:
This
USA Today article
, like others, claims slasher was not "bullied" at school but then quotes kids saying he was very small and young looking and describe "relentless teasing" until he must have "snapped" and wanted to die. This is not bullying?
UPDATE #2
CNN with
a little footage
of the little suspected slasher.
UPDATE
: Police presser at 5 p.m. Principal tackled suspect. Twenty victims, including security guard, one or two still "critical." Will only say suspect is sophomore, age 16--although he has been IDed and described widely elsewhere.
Earlier:
In the wake of the
latest school tragedy
, this time outside Pittsburgh, with 20 injured (the perp has been IDed by students as "shy" guy), gun nuts will no doubt say--see, you don't need guns to cause this kind of mayhem, knives will do nicely. But the point, of course, is that if this kid had a gun or assault rifle, perhaps 15 or many more would be dead by now, instead of a handful seriously hurt and a few others hurt not so bad. As the local sheriff said, in an understatement, "This could have been much worse."