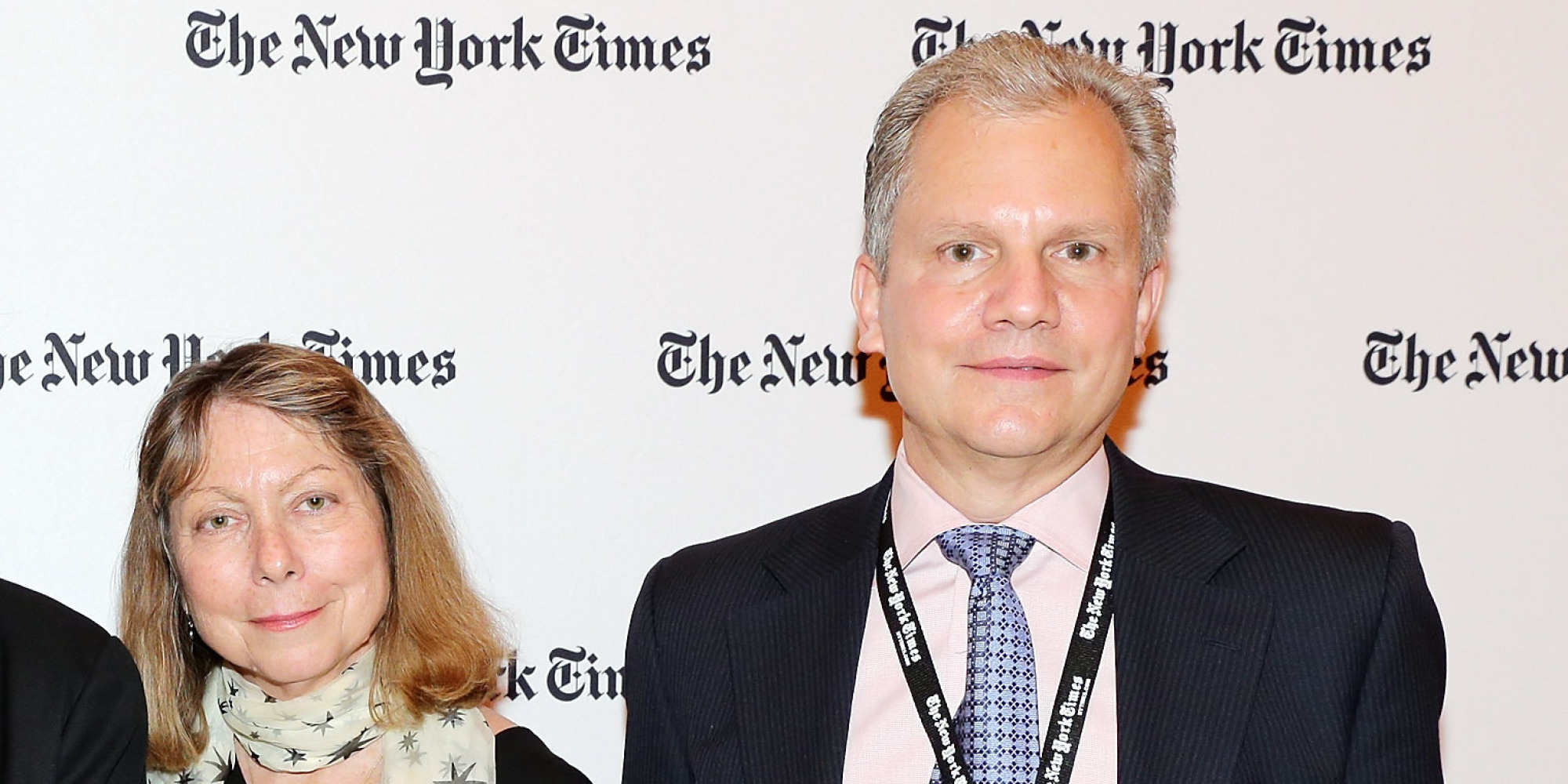 Tuesday update:
Sarah Ellison of
Vanity Fair
with first Q & A with Sulzberger
in recent days, and her commentary will strike many as "balanced." But at heart nothing much new from what I've related below.
Monday update:
Have any of those who jumped on Ken Auletta's initial report on the Abramson firing to charge that it was mainly about pay disparity taken back any of their fact-challenged claims since Auletta (who they once cited as theexpert) has taken back his claim and
today cites many other reasons
? I did predict this change of course from the start. She wasn't just a "tough" editor--she had a legion of faults, as most of the top staffers, many of them women attest (see below, also), and seemingly nakedly lied about a key issue. And people forget that Howell Raines was not, as usually stated, fired over the Jayson Blair scandal--he was fired for his arrogant and callous attitude and response to the crisis and handling of top staffers as it was beginning to fade.
UPDATE
: One of best, and probably most accurate accounts of how top women inside the
NYT
feel about the Abramson firing--countering so much of the blather from outside--arrived tonight in tweets from Lydia Polgreen, deputy international editor. Excerpts: "The women of the NYT aren't shrinking violets. They more or less run the joint....One telling fact: the women of the Times would revolt en masse if they thought gender played any role at all in Abramson's firing....There has been no revolt. There have been many searching conversations, but no women's revolt over Jill Abramson's firing at the NYT....Are women at the NYT afraid of losing their jobs if they speak up? I don't think so. I know I am not....None of this to say that sexism does not exist at the NYT. It is a big company with its share of problems around equity." @LPolgreen
This inspired several other leading
NYT
women to tweets. Just one, Patricia Cohen, a top culture writer: "jill like every other ex. editor unceremoniously moved out editors she didn't want. Why can't publisher?" And: "Abramson determined the terms of how she left, she wanted to leave that way, not Sulzberger." And: "I'm tired of hearing journalists who are women saying how "women journalists" in general feel."
The
Times
' Michael Luo responded in a tweet: "1/2 of NYT masthead is female, thx to Jill. If they thought gender was issue in firing, suspect newsroom would know. Have heard nothing."
Earlier tonight:
Full statement from
NYT
chief Arthur Sulzberger, Jr. this afternoon. Half of the "masthead" editors are women. One has to wonder if this does not violate the alleged NDA (or perhaps it was one-sided). Possibly Sulzberger thinks he has so many top people behind him he is daring her to speak out now. For what it's worth, Howard Kurtz
now relates
what I predicted just after the firing--that Dean Baquet probably threatened to quit (and had other offers) and Sulzberger chose keeping him over Abramson.
Dylan Byers adds to earlier reports that
Abramson basically lied
about telling Baquet that Gibson would be co-managing ed. and that this was the real firing offense.
Perhaps the saddest outcome of my decision to replace Jill Abramson as executive editor of The New York Times is that it has been cast by many as an example of the unequal treatment of women in the workplace. Rather than accepting that this was a situation involving a specific individual who, as we all do, has strengths and weaknesses, a shallow and factually incorrect storyline has emerged.
Fueling this have been persistent but incorrect reports that Jill's compensation package was not comparable with her predecessor's. This is untrue. Jill's pay package was comparable with Bill Keller's; in fact, by her last full year as executive editor, it was more than 10% higher than his.
Equal pay for women is an important issue in our country – one that The New York Times often covers. But it doesn't help to advance the goal of pay equality to cite the case of a female executive whose compensation was not in fact unequal.
I decided that Jill could no longer remain as executive editor for reasons having nothing to do with pay or gender. As publisher, my paramount duty is to ensure the continued quality and success of The New York Times. Jill is an outstanding journalist and editor, but with great regret, I concluded that her management of the newsroom was simply not working out.
During her tenure, I heard repeatedly from her newsroom colleagues, women and men, about a series of issues, including arbitrary decision-making, a failure to consult and bring colleagues with her, inadequate communication and the public mistreatment of colleagues. I discussed these issues with Jill herself several times and warned her that, unless they were addressed, she risked losing the trust of both masthead and newsroom. She acknowledged that there were issues and agreed to try to overcome them. We all wanted her to succeed. It became clear, however, that the gap was too big to bridge and ultimately I concluded that she had lost the support of her masthead colleagues and could not win it back.
Since my announcement on Wednesday I have had many opportunities to talk to and hear reactions from my colleagues in the newsroom. While surprised by the timing, they understood the decision and the reasons I had to make it.
We are very proud of our record of gender equality at The New York Times. Many of our key leaders – both in the newsroom and on the business side – are women. So too are many of our rising stars. They do not look for special treatment, but expect to be treated with the same respect as their male colleagues. For that reason they want to be judged fairly and objectively on their performance. That is what happened in the case of Jill.
Equality is at the core of our beliefs at The Times. It will always be.