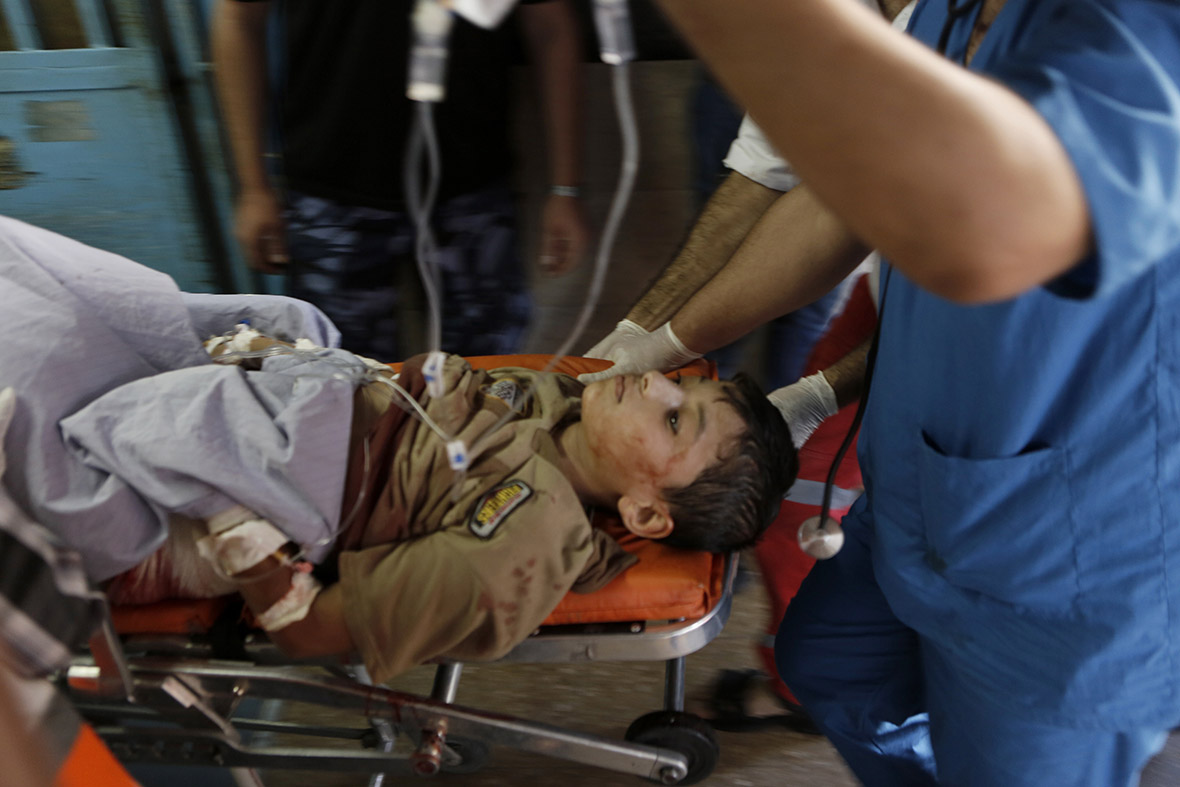 It's, in some ways, if true, just about the biggest news of the day: An
Israeli official has admitted
, it's
reported by
@JonDonnison of the BBC, that Hamas did not kidnap and kill those three teens! Instead it was a small local "cell" that might have been sympathetic to Hamas but not ordered to do it.
You'll recall this whole round of ultra-violence kicked off by savage crackdown in search for "Hamas" killers of the teens. Some pointed out long ago that unlikely Hamas did this, knowing how Israel would respond, leading to claims that Israel wanted to pick fight with Hamas now. This revelation may be coming to light as Israeli police need to explain why they have not caught the killers of the teens yet--so they are claiming very hard because an unknown "cell." More to come.
From Israeli daily Haaretz just now (8:00 p.m. ET): "IDF forces stationed in Beit Hanoun in the northern Gaza Strip continued bombing a hospital in the area before midnight Friday. There are approximately 60 medical staff members in the hospital, in addition to three patients and two international solidarity activists.
"Several people were injured in the fire including one swede. Most of the patients were already evacuated from the premises. It's now chaos, the military is shelling directly at us. There are two patients on the second floor and we think they're okay, but we can't move them easily as they're bed-bound. I'm bleeding from a head wound and there's another person injured. People are very frightened," Fred Ekblad, a Swedish activist said. (Amira Hass)."
Latest official numbers from Gaza Health Ministry: Out of the 848 dead, 40 were elderly (20 males, 20 females), 600 were adults (518 males, 82 females) and 208 were children (138 males, 70 females).
Out of the 5,694 injured: 230 elderly (108 males, 122 females), 3685 adults (2573 males, 1112 females) and 1779 children (1126 males, 653 females).
Chris Guinness, UNWRA spokesman, in statement. No proof on who fired but--now, why wouldn't Israel want a probe? "At 1400 today an UNRWA team which included an international weapons expert went to the school at Beit Hanoun which came under attack yesterday causing multiple deaths and injury. The aim of the visit to the site was to survey the scene in the aftermath of the incident. The Israeli army had been notified in advance about the composition of the team, the time and purpose of the visit. The mission had to be cut short and the team was forced to leave the area after gunfire around the school. UNRWA regrets not being able complete even this initial assessment. We will attempt to visit the site when the situation allows. We again underline our call for an immediate and comprehensive investigation."
Five Palestinians now dead in West Bank protests. One shot by a settler. From
The Guardian
:
In the first incident, 46-year-old Hashem Abu Marieh and 30-year-old Sultan Yusef were killed in the Palestinian village of Beit Ummar near the flashpoint southern city of Hebron by Israeli soldiers.
In the second incident, a group of settlers opened fire on protesting Palestinians after they threw stones at their car near the northern West Bank city of Nablus. The settler fire killed an 18-year-old Palestinian named as Khaled Oudeh. Shortly afterwards, Israeli troops arrived at the scene and clashed with the Palestinians, firing live bullets and tear gas.
The Israeli army fire killed a second Palestinian, 22-year-old Tayyib Oudeh, the security sources said, adding that three other Palestinians were injured by live fire.
Hashem Abu Maria, 46, killed today in Beit Ummar near Hebron by Israeli soldiers worked with
Defence for Children
, an NGO for Palestinian kids.
You can rest easily now that Michael Gordon, veteran war hawk and Judy Miller's co-author on some of her most notorious Iraq WMD pieces,
joins Gaza-Israel
coverage at the
NYT
. Reports that Hamas has chemical weapons may soon follow....
On the other hand, Anne Barnard of the
Times
tweets "RE "human shields"--Israeli troops' use of them in WB & Gaza is well-documented; IDF says punishable aberation; HR gps say in past systemic." And she links to several cases, e.g.
here
.
Another incident
took place near site of yesterday's school massacre. Gaza residents this week have charges that IDF soldiers have entered their homes and fired weapons from there.
Richard Engel of NBC yesterday tweeted that he was in Gaza in ambulance under attack by Israel. Here's his report on this common occurrence:
Massive demos in West Bank last night
left one or more Palestinians dead
and hundreds injured (235 admitted to one hospital). John Kerry pressing "ceasefire" talks--or "humanitarian pause"--but it would leave Israel within Gaza to clean out more tunnels, which doesn't seem likely to fly with Hamas.
My
full report
on disgrace at
NYT
as it trumpets Israel claim on not hitting UN school yesterday in both its news and editorial sections.