I've been fielding a bunch of inquiries lately about the just-completed ms. for my long-awaited memoir,
This Ain't No Disco: Rocking and Reeling Through the '70s, From Politics to Punk,
covering my many years at
Crawdaddy
during that swinging era. More than a memoir, the book also serves as a unique, musical/political/cultural history (and defense) of the entire, unfairly maligned, decade. Now here's the Intro--at least in the current draft, subject to change. Now to seek a publisher. Enjoy.
**
INTRODUCTION
Before Dylan and Springsteen, transistor radios and iPods,
Rolling Stone
and
Crawdaddy
, before CDs and mp3s and YouTube, there was…a photo of me, at age three, sitting on the living room floor of my home in Niagara Falls, surrounded by plastic discs, my right arm perched casually on the front edge of a "record player" (as we called them back in the day), while my left hand gripped another platter. My older brother Brian kneels behind me, in a grey suit and tie, beaming directly at the camera, but I am dressed casually, wearing a two-tone, short-sleeved shirt and dark slacks, with white hair pushed to one side, unsmiling but enthralled, looking years older. It was 1951, and I was already seriously into music. In its grip today, that expression on my face probably has not changed at all.
Fats Domino had released a few singles, but they were considered "race records" and not aimed at (nor widely available to) white audiences. Elvis Presley and Buddy Holly were still in high school. Rock 'n roll had not hit yet, but like many of my generation, I was clearly born to rock.
Yet, if you'd told me when I was growing up in Niagara Falls in, say, 1964, that one day I would correspond with John Lennon, write liner notes for Roy Orbison, have a few beers with the leader of my favorite group (The Kinks), help Bob Dylan launch a famous tour, and become friends with the most important rocker of the 1970s and 1980s (it would turn out to be Bruce Springsteen), I would have, no doubt, laughed myself silly, as kids will do. Yet all of these things and more—such as interviewing my favorite '60s authors (Joseph Heller and Kurt Vonnegut, Jr.) and poet (Allen Ginsberg), meeting film stars such as Jane Fonda, and hanging out with some of the most notorious left-wing radicals of the era--would come to pass, all within the following decade.
This book explores how that somehow happened. Beyond that,
This Ain't No Disco: Rocking and Reeling Through the '70s, From Politics to Punk
, is a chronicle of, and tribute to, the much-maligned 1970s—before Ronald Reagan and MTV took over and ruined everything.
For nearly all of the 1970s, I wrote for and edited magazines consumed with the music and political spirit of the times. After penning my first record review for
Rolling Stone
in 1970, I joined the short-lived
Zygote
in New York City, then served as the number two editor at the legendary
Crawdaddy
—the first serious rock-culture magazine--for nearly the entire period of 1971 to 1979. This book concentrates on those years and offers a fresh overview, from the inside, of that still-ridiculed, by many, decade.
Yes, disco was mainly awful and President Gerald R. Ford fairly lame, but today, with Patti Smith winning a National Book Award,
Searching for Sugarman
stealing an Oscar, Leonard Cohen becoming a hot arena act, and Led Zeppelin earning an unlikely Kennedy Center honor, perhaps it is now hip to be Seventies.
Mad Men
is about to immortalize that decade. Shia LeBeouf starred in a film about a Weather Underground fugitive, Ben Affleck won an Oscar for
Argo
, and David O. Russell's
American Hustle
explored, to comic effect, the ABSCAM epic (with Jennifer Lawrence and Christian Bale)—and even bad haircuts did not stop any of them. There was even a recent CBGB movie starring Alan Rickman.
Certainly, this book joins a crowded field of memoirs that focus on the rock 'n roll of the 1970s, some written by famous artists, others by music critics and editors. My book is different from all of them, because my interests (and
Crawdaddy
's) went far afield from "just" the music. In my account, we also meet some of the leading political figures, novelists, comedians, and film-makers of the decade. The book also serves as an informal history of the '70s, with timelines for each year posted at the end of chapters; and in the appendix, excerpts from dozens of key
Crawdaddy
articles, arranged chronologically.
Partly by accident of birth, I can offer a a full generational perspective in this chronicle of rock 'n roll and the entire decade. Since I entered this world at the end of 1947, I was, unlike most Baby Boomers, old enough to experience the shock waves set off by Bill Haley & the Comets,
Blackboard Jungle
and Elvis's pelvis, not to mention Little Richard and Jerry Lee Lewis. Later, I stood proudly in the prime target audience—that is, barely in my teens--when Phil Spector, the Beach Boys and Motown ruled the charts in the early 1960s. I was fifteen when Beatlemania hit. And I reached concert-going age just in time to witness one of Bob Dylan's legendary electric concerts in 1965 (yes, a lot of fans booed), attend concerts by Jefferson Airplane, Simon & Garfunkel, and The Band at their peak, and spend my college years enjoying the heights and depths of psychedelia.
Even spanning the entire musical era, my rock 'n roll experience, up to the age of 22, was not all that different from many others--like nearly everyone, I missed Woodstock--so I do not dwell on it in these pages. Still, this is a memoir written by someone Who Was There, from Elvis (Presley) to Elvis (Costello).
The timing of my birth also meant that I closely followed all of the major political figures of the era—from JFK to Carter, from Martin Luther King Jr. to George Wallace—and the major social movements. The frequent political digressions, in fact, make this a highly unusual "rock 'n roll memoir."
In recounting my experiences as a rock insider during the 1970s, I detail intimate interactions with a wild and wooly cast, from Roy Orbison and Ray Davies to Patti Smith, Talking Heads and Tom Waits, before closing, as the decade did, with the Bee Gees on top. I recount, among other events, the birth of Dylan's 1975 "Rolling Thunder" tour, plus junkets to London (with Cameron Crowe) and Japan (with twenty Latin musicians).
You are there in Memphis for the first and only "rock writers convention," and debut of Big Star, when two legends peed through the gate at Graceland. Also: my epic probe of the death of Gram Parsons, as I learn why Charles Manson's record producer stole his body and burned it in the desert. Then there's the day I attended the most notorious
cancelled
rock festival ever, where future comedian Lewis Black was working the parking lot. What was it like to have a beer with Hank Williams' old backup band? Or hear Rodney Crowell threaten to kill me? Or come up to bat against Meat Loaf on the baseball diamond? Fix Richard Price up with Ronnie Spector? Get blasted with Tom Waits? Or helping to convince William Burroughs to interview Jimmy Page—and pose with him on our cover?
The longest section of the book, however, details for the first time the key role I played in jump-starting Bruce Springsteen's career—after meeting him in Sing Sing Prison in 1972. Then I nearly got him swept over Niagara Falls before he even got a taste of stardom.
Beyond the music world, I scored the first major interview with Tom Robbins, nabbed the first interview with Joseph Heller in years, and chatted with Kurt Vonnegut Jr. (then recounted the episode under the byline of Kilgore Trout). Hired fugitive Abbie Hoffman as our "Travel Editor" and William M. Kunstler as our legal eagle. Got Jeff Goldblum to write a record review—after I appeared in one of his first movies. Got spied on by the FBI. Found a feminist heroine at the Miss USA Pageant. Exposed hundreds of "Love Canals." And much more.
Besides capturing many revealing, and often humorous, encounters with the once and future famous, this book chronicles, as one of its themes, the survival of rock 'n roll—and progressive politics--during the 1970s. It's a dirty job, but someone's got to do it.
Rock 'n roll had blown apart in self-indulgent ways in the late-1960s. "Corporate rock" had arrived. Many top stars were saddled with drug habits and heading for an early and permanent exit (notably Jimi, Janis, Jim and Gram). Altamont had sullied Woodstock. The Beatles broke up and Brian Wilson was out of his mind. Motown was fading as a creative force. Lou Reed left the Velvet Underground. Creedence was torn by dissent. The Byrds were shot.
But in the first year or so of the new decade, things started to look up, with the likes of the Stones'
Sticky Fingers
, the first solo lps from John Lennon and George Harrison, Van Morrison's
Moondance
, Derek & the Dominoes'
Layla
, and Neil Young's
After the Goldrush
. David Bowie arrived. So did Jackson Browne, Linda Ronstadt, and Little Feat. Marvin Gaye's
What's Going On
was an unquestioned masterpiece. So, in a quite different way, was Carole King's
Tapestry
. I was never a fan of "glitter-rock" but, okay: Alice Cooper blew many a young mind. And
Exile on Main Street
soon followed.
Then, in early 1973, we witnessed the emergence of Springsteen and a few other true rockers. Pub-rock arrived from England, via the likes of Nick Lowe and Graham Parker, and reggae (thanks to Jimmy Cliff and Bob Marley) from Jamaica. Al Green and a revived Stevie Wonder seized the top of the charts. So did Labelle and Dr. John. Joni Mitchell, of all people, had a hit single. By mid-decade two albums from the new Fleetwood Mac lineup not only sold millions but were pretty damn good. Then punk and New Wave exploded, out of CBGBs and via the Sex Pistols and The Clash. Patti Smith and the Ramones broke through. Warren Zevon got "Excitable." Dire Straits released "Sultans of Swing." Hip-hop was born--no small thing!
No, we're not forgetting disco, but at least many protested it, loudly. And artists ranging from the Stones to Blondie made good use of it.
And if you still believe the '70s weren't so hot, consider the coming of the 1980s, starting with the election of Ronald Reagan. The Sex Pistols broke up and Sid Vicious ODed. FM radio lost its "free-form." In 1980, John Lennon was murdered. The following year, Kenny Rogers and Barbara Streisand had #1 albums, REO Speedwagon sold more records than anyone, and MTV was launched, changing everything. Madonna helped sparked the sexualization of the majority of top female singers to this day. Hip-hop gave us Public Enemy—but also incredibly violent and misogynist lyrics. Something called "Asia" produced the top-selling album of 1982.
Yes, there would be great albums from U2, Talking Heads, Elvis Costello, Public Enemy, Prince, Springsteen, Michael Jackson, Peter Gabriel, REM, Sonic Youth, Paul Simon and others—but most of them were artists first given an energy surge (and their first recording contracts) in the 1970s.
"Nobody is apt to look back on the 1970s as the good old days," Time magazine declared at the turn of the decade.
New West
famously sized up the '70s this way: "It was the worst of times, it was...the worst of times." Yet consider this: Dylan found his muse in the '70s. In the '80s he found Jesus. The state of New Jersey in the '70s gave us Springsteen. In the 1980s: Bon Jovi. John Belushi, a '70s mega-star via
SNL
and The Blues Brothers? Dead in the 1980s.
What about politics? Surely the decade's reputation as a silly stepchild of the '60s, as "The Me Decade" or "From Yippie to Yuppie," is richly deserved. Not really. Yes, it was often a trivial time—pet rocks and Farrah Fawcett and all the rest—but look at it this way: Why are the 1960s so celebrated, given the assassinations of JFK, Malcolm X, RFK and MLK, Jr., the countless urban riots, the start of the Vietnam war and revival of Richard Nixon, the Manson murders, the illegal FBI and CIA actions? In the '70s we got rid of Nixon and got out of Vietnam (and a new president pardoned draft resisters). Congress enacted strict new curbs on both the FBI and CIA. It was the decade of Gloria Steinem and Harvey Milk. Jerry Brown left such a mark, California brought him back as governor thirty years later!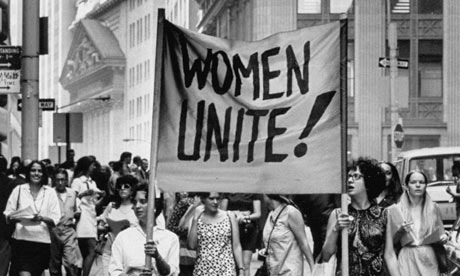 The Democrats in the '70s nominated for president George McGovern and Jimmy Carter, who years later would be claimed as "most admired Americans" by millions. Their counterparts in the 1980s? Walter Mondale and Michael Dukakis.
The '70s had Muhammad Ali, the '80s, Mike Tyson. In the 1970s we escaped Vietnam—in the 1980s we invaded Granada and Panama. Nixon was forced out of office due to Watergate, while Reagan would survive Iran-Contra. Millions worried about herpes in the 1970s but sex wouldn't kill you; then along came the AIDs epidemic. The near-disaster of Three Mile Island was succeeded in the 1980s by the utter disaster at Chernobyl.
The 1970s also gave us the birth or turning point for the women's and gay rights movements, for environmentalism (after the first Earth Day) and Native American activism (after Wounded Knee), prison reform (after Attica), and a surge in the antinuclear movement (after Three Mile Island). Boycotts of apartheid South Africa. A much-needed "fitness craze." Solar energy. The coming of "responsible investing." Primetime TV shows like
All in the Family
and
Roots
sparked national conversations on race that President Obama can only dream about today.
Soap
gave us the first (out) gay character.
Yet the decade is still often mocked as "the sleepy Seventies" when "nothing happened."
Turning to film, I will simply list some of the best films of the '70s:
The Godfather, Taxi Driver, Serpico, Dog Day Afternoon, One Flew Over the Cuckoo's Nest, All the President's Men, Chinatown, Annie Hall, Last Tango in Paris, Klute, Network
. This is now known as the high point of the "new Hollywood," with young directors given nearly free rein and topical social issues often brilliantly probed.
Shall I continue?
Godfather II, The French Connection, Five Easy Pieces, The Last Picture Show, Nashville, Badlands, Coming Home, Kramer vs. Kramer, The Last Waltz, Alice Doesn't Live Here Anymore, Bound for Glory, The Parallax View, All That Jazz, Shampoo, Don't Look Now, Julia, Lenny, Norma Rae
. The first "summer blockbuster,"
Jaws
, still managed to boast a strong plot and character development—unlike the modern day equivalents. And there were several other good-for-the-genre flicks such as
Rocky, Stars Wars, Invasion of the Body Snatchers
and
Saturday Night Fever
.
Now consider the 1980s. Check out any Best 100 list on the web and you''ll find mainly popcorn films (e.g.
The Empire Strikes Back, Field of Dreams, Die Hard, Raising Arizona, Back to the Future
) and comedies (such as
Ghostbusters
and
When Harry Met Sally
). Michael Cimino gave us
The Deer Hunter
in one decade,
Heaven's Gate
in the next. Francis Ford Coppola plunged from
Apocalypse Now
to
Peggy Sue Got Married
. As for the present day: Do you really want to go there?
So this memoir speaks for a generation which, in the 1970s, would stop a war, kick out a president, change Hollywood and TV, and do it all to a soundtrack of rock 'n roll. At
Crawdaddy
we figured we'd pick the cuts. That might have been too idealistic, not to mention bottom-line foolish. But at least we were still asking, along with Nick Lowe and Elvis Costello,"What's so funny about peace, love, and understanding?"
And, yes, the quick-beating heart of this book remains the music, from
American Bandstand
to "An American Girl." So sit back, slip in some ear buds, put on some Marley or Springsteen or Talking Heads, and take a little walk on my wild side. Too late for me to die before I get old, but I'll take it.
-- Greg Mitchell, July, 2014