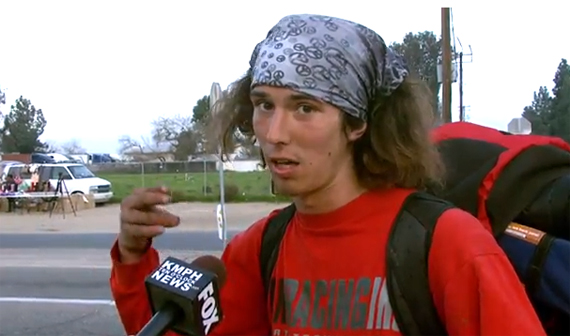 Remember "Kai," the homeless surfer dude who saved a guy's life with a hatchet and became a viral sensation? Well, hello,
he's just been arrested
on suspicion of murdering a lawyer in New Jersey.
Caleb "Kai" McGillvary "was charged with killing Joseph Galfy, Jr., a Clark, N.J. attorney found dead Monday. Romankow said he will be processed and sent to back to New Jersey, where his bail is set at $3 million. Galfy's body was found two days after authorities said he met McGillvary in New York City. Galfy, 73, was found wearing only his underwear and socks by police who went to his home to check on his well-being."
Statements posted on McGillvary's Facebook page following the homicide indicated the encounter was sexual in nature, Romankow said, though he declined to go into specific detail.